This Teacher Gives Extra Credit a Whole New Meaning

+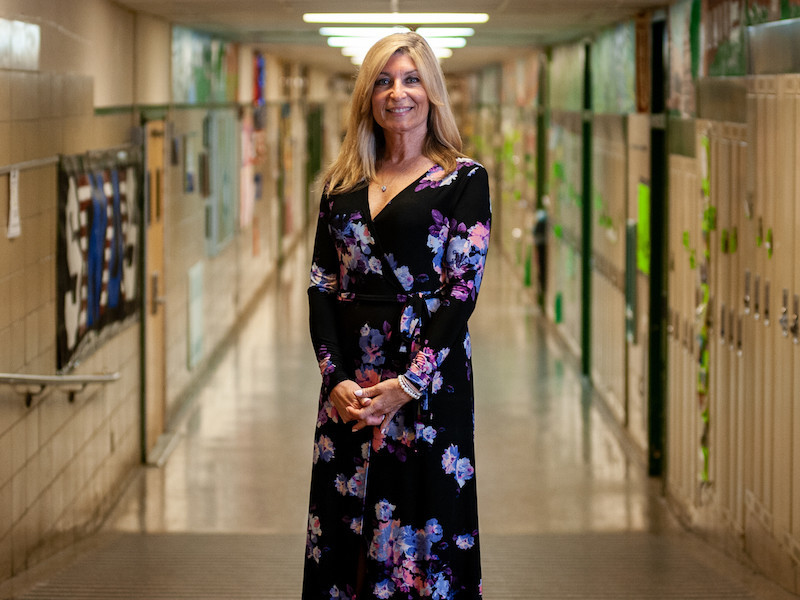 Meet a dedicated teacher who goes the extra mile to make sure her students never miss an opportunity.
"If I said to you, 'Who's your favorite teacher?' would you be able to come up with a name?" Joan Caliendo asks, "You could, right? Because they changed you."
For Caliendo, this question isn't a conversation starter — it's a mission statement.
Currently in her 29th year of teaching high school, Caliendo teaches AP American History, sociology and women's studies. As if that's not already enough, Caliendo acts as both a class advisor, and as the varsity cheerleading coach.
"We have about 111 students per grade," Caliendo says. "It gets very personal. You want to excel with the group that you're invested in, and that's where all the extra materials come in."
The "extra materials" she's referring to are the hundreds of dollars she spends each year to go above and beyond for her students.
For starters, Caliendo buys supplies for her classroom, everything from magazines and books to bulletin boards and decorations. Additionally, in her role as class advisor, she purchases even more materials to help one of the school's classes (this year, the seniors) organize fundraisers, charitable events and homecoming. The activities defray the costs of prom and the yearbook for the class. Caliendo spends her money to help students save theirs.
Then there's cheerleading. "That in itself is an occupation," Caliendo says. "It's two seasons, back-to-back … July to March." Again, Caliendo puts her personal resources toward anything the team needs that the school's budget doesn't cover.
Fortunately, Caliendo doesn't have to stress about how to manage all her different school-related expenses — because she has PayPal.
"I use PayPal for ordering T-shirts for the grade, uniforms for the cheerleaders," she says. "Any of the fundraisers that we do, I use PayPal and my personal PayPal account to order in bulk. It's convenient, it gets you the goods that you need in a very timely fashion. And it's secure."
Because of her frequent PayPal use, Caliendo is excited that there's now a PayPal Cashback Mastercard®, which gives you 2% cash back on every purchase wherever Mastercard is accepted.
By using the PayPal Cashback Mastercard for personal purchases and school-related expenses, Caliendo could get cash back on all of her purchases. And she could put it towards all the materials she buys for her students.
"The money could be used for even more supplies, fundraising gear, or personal use," Caliendo says. "That would be an added bonus."
Caliendo emphasizes that she's no exception: lots of teachers spend money on their students the way she does, because going the extra mile is what teaching's all about.
"For teachers who have really bought into the system of making a difference, you go into your own pocket a lot to do things for the students," she says. "That's what I say all the time: 'I'm not making a fortune, I'm making a difference.''
She adds, "I would love for people to understand that teaching isn't a job — it's a passion. It's a career. And it's life changing for teachers and their students".
"Good teachers have the power to change people's lives."