Supporting Our Troops, All Over the World

+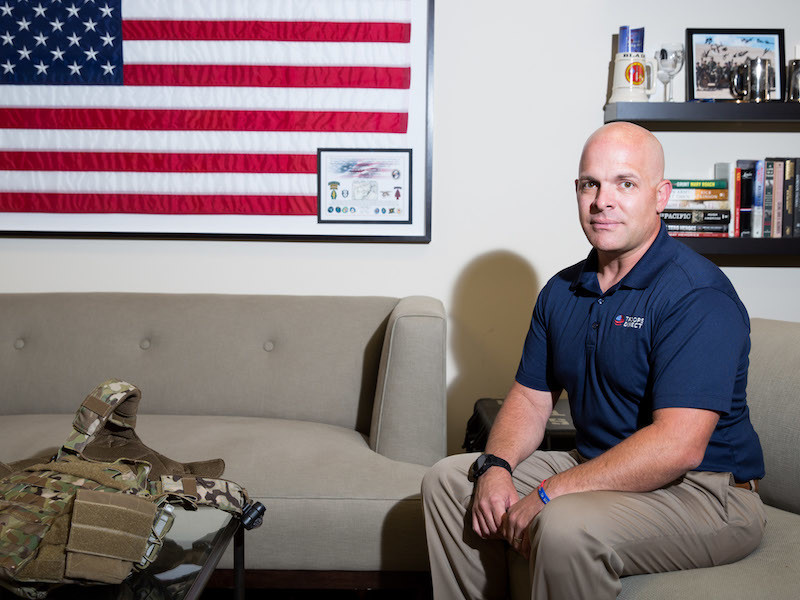 This founder's mission: to deliver vital supplies to American troops—anywhere, anytime.
In 2010, Aaron Negherbon sent a 45-pound care package to his close friend, a U.S. Marine stationed in Afghanistan.
"He said, 'Holy cow, I need all these things,'" Negherbon remembers, "'but my Marines need them even more. So I'm giving the things to them.'"
Touched, Negherbon (pronounced "NEAR-bon") asked his friend what else his troops needed. "The requests that came back from him were kind of profound," he says.
Stethoscopes for medics. Bandages, gun lubricant, boot laces. Basic hygiene items and batteries. Like most people, Negherbon assumed that the military provided these items for troops; in reality, he says, bureaucracy and red tape slow the military's international supply chains.
So Negherbon went to work. He packed boxes in his garage night after night, sent them out as often as he could. This was the humble beginning of Troops Direct, a nonprofit that purchases and delivers direly needed supplies to U.S. troops all over the planet—at no expense to the requesting unit.
"What makes Troops Direct so special," Negherbon says, "is the fact that we are providing equipment that the troops are actively asking us for. We don't send anything arbitrarily…we send things that save lives and limbs."
Since its creation eight years ago, Troops Direct has grown exponentially from a one-man operation to a local organization serving San Diego-based Marines, then to a global charity that has shipped approximately four million pounds of supplies to troops on almost every continent. It grew by word-of-mouth, from troop leader to troop leader and from donor to donor, each stressing the importance of the need being met, and the efficacy of Troops Direct's operation.
"What can take us 10 days to get anywhere on the globe can sometimes take 10 weeks or 10 months otherwise," Negherbon says. "And our administrative overhead last year was less than two percent of our overall budget."
The Troops Direct model works, without government funding, thanks to private donations. Of every dollar received, more than 95 percent benefits troops directly. (To learn more, go to TroopsDirect.org.)
"We need financial support from people because we have no time to waste on a request," Negherbon says. "We need to swipe the company credit card today to get items out the door and on their way.'"
We also spoke with Negherbon about how he'd use PayPal Cashback Mastercard®, which earns cardholders two percent cash back on every purchase—money, he says, that Troops Direct would use to "save lives and accomplish missions."
"All that money goes to some kind of acquisition that will positively impact an American," he says. "Let's say it's $1,000 a year of cash back: We can go out and buy IED-identifying chalk powder for every dismounted foot patrol in Afghanistan and Iraq right now. How many lives and limbs are not lost because of that?"
For Negherbon, the past eight years are just the beginning of what he hopes to accomplish.
"When you realize that what you've done saved a life, and that's conveyed to you by a service member coming back home, how do you stop doing what you're doing? It's so important."
A little giving back can go a long way. With the PayPal Cashback Mastercard, you get two percent cash back on every purchase, and there are no rotating categories or restrictions on purchase types that you can earn cash back on. Accepted nationwide at merchants that accept Mastercard, you can redeem any time, with the cash back going directly into your PayPal account. See Rewards Program Terms for details.